Main Content
Thursday, November 14, 2019 – 7:30pm – Brendle Recital Hall
Mahan Esfahani has made it his life's mission to rehabilitate the harpsichord in the mainstream of concert instruments, and to that end his creative programming and work in commissioning new works have drawn the attention of critics and audiences across Europe, Asia, and North America. He was the first and only harpsichordist to be a BBC New Generation Artist (2008-2010), a Borletti-Buitoni prizewinner (2009), and a nominee for Gramophone's Artist of the Year (2014, 2015, and 2017).
His work for the harpsichord has resulted in recitals in most of the major series and halls, amongst them London's Wigmore Hall and Barbican Centre, Oji Hall in Tokyo, the Forbidden City Concert Hall in Beijing, Shanghai Concert Hall, Sydney Opera House, Melbourne Recital Centre, Lincoln Center's Mostly Mozart Festival, Berlin Konzerthaus, Zurich Tonhalle, Wiener Konzerthaus, San Francisco Performances, the 92nd St Y and Miller Theater in New York, Schleswig-Holstein Music Festival, Cologne Philharmonie, Edinburgh International Festival, Aspen Music Festival, Aldeburgh Festival, Madrid's Fundacion Juan March, Bergen Festival, Festival Mecklenburg-Vorpommern, Al-Bustan Festival in Beirut, Jerusalem Arts Festival, and the Leipzig Bach Festival, and concerto appearances with the Chicago Symphony, BBC Symphony, Royal Liverpool Philharmonic, Ensemble Modern, Concerto Köln, La Follia Barockorchester, Royal Northern Sinfonia, Kammerphilharmonie Potsdam, Melbourne Symphony, Auckland Philharmonia, Czech Radio Symphony, Orquesta de Navarra, Malta Philharmonic, Aarhus Symphony, Hamburg Symphony, Munich Chamber Orchestra, Britten Sinfonia, and Los Angeles Chamber Orchestra.
Esfahani studied musicology and history at Stanford University, where he first studied harpsichord with Elaine Thornburgh; he then studied harpsichord intensively with Peter Watchorn in Boston before completing his formation under the celebrated Czech harpsichordist Zuzana Růžičková in Prague. Following a three-year stint as Artist-in-Residence at New College, Oxford, he continues his academic associations as an honorary member at Keble College, Oxford, and as professor at the Guildhall School of Music and Drama in London. He can be frequently heard as a commentator on BBC Radio 3 and Radio 4 and as a host for such programs as Record Review, Building a Library, and Sunday Feature; for the latter programme he is currently at work on his third radio documentary following two popular programs on such subjects as the history of African-American composers in the classical sphere. Born in Tehran in 1984 and raised in the United States, he lived in Milan and then London for several years before taking up residence in Prague.
I
Thomas Tallis: Felix namque II (1592)
Luciano Berio: Rounds (1968)
II
Jean-Philippe Rameau, from Pieces de clavessin (1724):
Les tendres plaintes
Le lardon – La boiteuse
L'Entretien des Muses
Les cyclopes
III
Henry Cowell: Set of Four (1960)
INTERMISSION
IV
Miroslav Srnka: Triggering, for harpsichord and two E-Bows (2018, for Mahan Esfahani)
V
S. Bach: Partita III in A minor, BWV 827
Fantasia
Allemande
Corrente
Sarabande
Burlesca
Scherzo
Gigue
Join us for a pre-concert talk by Dr. Peter Kairoff at 6:40 pm. The talk will take place in Room M208 just off the Brendle Recital Hall lobby.
Esfahani's program is exceptionally wide-ranging, encompassing music from the 16th Century to our own time. Dr. Peter Kairoff, Chair of the Department of Music at Wake Forest University, will explain and demonstrate some of the main differences between the harpsichord and the piano, and talk about some of the similarities and differences between the works on this remarkable and varied program.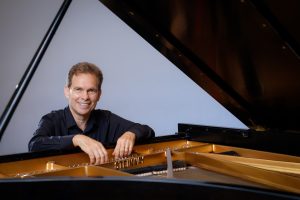 About the Speaker
Peter Kairoff was born in Los Angeles, and studied at the University of Southern California, where he received Master's and Doctoral degrees with highest honors.  He also studied for two years in Florence, Italy, as winner of a Fulbright Scholarship and a Rotary International Fellowship.  His teachers include Jerome Lowenthal and Brooks Smith in California, and Orazio Frugoni in Florence.  He has performed throughout the world as pianist and harpsichordist to great critical acclaim.  In recitals in Shanghai, Rio de Janeiro, Berlin, New York, Rome, Moscow and many other musical centers, reviewers have noted his "meticulous accuracy and profound musicality" (Oxford Mail, UK), and his "Fire and Passion" (Washington Post, USA).   He has published 8 CD recordings on the Albany and Centaur record labels, which been enthusiastically received for their "powerful romantic passion and broad sweep" (American Record Guide), and are frequently heard on classical music radio stations throughout the world.
Dr. Kairoff is Professor and Chair of the Department of Music at Wake Forest University, where he has taught since 1988.  He also taught at the University of Texas at Austin, the State University of New York, and Middlebury College, and has given master classes at conservatories in Moscow, Brazil, Italy, China and several states in the U.S.    He has also served as judge in a number of international piano competitions, most recently the Scriabin International competition in Tuscany, and the Sala Gallo competition in Milan.  In 2012 he was named a "Steinway Artist" in recognition of his "outstanding artistic contributions" in the field of piano performance.
NEW this year! All tickets have assigned seats. Doors to the hall open at 7:00 PM.
Online ticket sales for this event have ended. Tickets will be available for purchase in the lobby beginning at 6:30 pm. 
Adults – $18
Senior (62+) – $15
Non-WFU Student (12+) – $10
Child (5-12) – $5
Children under 5 free
Admission is free for WFU students, faculty, staff, and retirees. 
Wake Forest University and Medical School faculty, staff and retirees receive free admission for themselves and one guest to each Secrest Artists Series performance. WFU students and Medical School students receive free admission for themselves.